Discover the surroundings of Bernay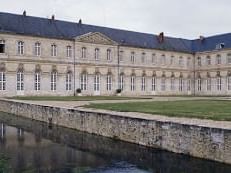 And rest in our hotel with swimming pool
Staying in a hotel with a heated swimming pool like the Acropol Hotel enables you to choose which of the many places of interest you may want to visit in the surroundings of Bernay. The Bec-Hellouin Abbey (one of the Most Beautiful Villages in France) is one of these, the intellectual and spiritual influence of which, has been perpetuated since its foundation in the 11th century by Herluin, knight of the Earl of Brionne. A community of Benedictine monks has lived there since 1948 in the 17th and 18th century monastery, in the shadow of the high Saint-Nicolas tower, a splendid vestige of the 10th century. You will approach this magnificent complex through colorful Alleys with borders of flowers, and half-timbered houses.
Only 12 km from Bernay, Beaumesnil castle is set amid a 50 hectares park, a Louis XIII style Baroque mansion built between 1633 and 1640. The brick and stone layout will delight everyone... but for sure the gourmets will enjoy the demonstration of caramel making /tasting (from 2:30 to 4:30 pm each afternoon)!
24 km away, discover the Harcourt estate, a powerful 12th century fortress in which a part of the enclosure and the original moats remain. The architecture, partly redesigned around 1700, is next to a bicentennial arboretum of 95 hectares, some of the 250 residents are as old as the garden!
Lisieux and its basilica (built in 1929, consecrated in 1954) await you, 30 minutes from your Acropolis Hotel. A unique sanctuary in the world (relics of Therese and her two parents, all three saints), the second-largest sanctuary city in France and one of the most important pilgrimage sites in Europe, the city and its basilica attract more than one million visitors per year. Independently of its spiritual dimension, the basilica is worth a visit for its architecture and its interior frescoes of Byzantine inspiration.
27300 Bernay, France 27300 Bernay France